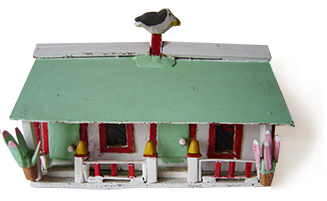 Harold Weaver lived alone in a small home outside of Halifax.

For several years he had on occasion produced small carvings which he used to decorate the railing around the veranda of his home, and to decorate the home itself. He was discovered by collector Chris Wilcox as the result of a chance encounter, and although he agreed to sell a few pieces to Chris after several visits, most of his work did not become available until after his death in the late 1990s.

It is estimated that he carved fewer than fifty pieces in total. His work, which is very distinctive, is virtually unknown other than to a small number of dedicated collectors and dealers in Nova Scotia.

The house is a replica of Harold's home. It is also for sale and you can see a larger image and a description and price if you click on the house.