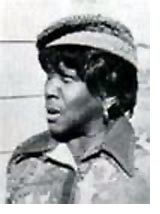 Inez Walker was born into poverty in Sumter, South Carolina. She was orphaned at an early age and she was married when only 16 years old and quickly had four children. Inez worked in a pickle plant and as a migrant farm worker. Inez was imprisoned in the early 1970s for killing a man who had most-likely abused her. She started drawing her expressive colourful portraits, usually of women, while confined at the Bedford Hills Correctional Facility (formerly known as Westfield State Farm) in Westchester County, New York State.

Elizabeth Bayley, who taught remedial English at the Bedford Hills facility, showed some of her drawings to Pat Parson, an art dealer. Walker's first efforts were on the back of the mimeographed pages of the prison newspaper. Later Pat supplied her with good paper, watercolors, pencils (both colored and graphite), ink, crayons and felt markers.

Inez's drawings are almost exclusively single or paired portraits of females. In most of her works, the heads are drawn much larger and more expressively than the rest of the figures and dominate the composition. The hair is elaborately detailed and the backgrounds contain boldly geometric and linear designs, and similar designs are often repeated on the subjects clothing. The eye lashes are unique to Walker as are her forward-facing eyes in profile drawings. Though Walker never felt she was able to capture a likeness, and she relied on her imagination to develop the faces, she created clearly recognizable characters. Some recur frequently. Elements of self-portraiture are also evident in her figures, many of whom wear clothing, especially hats, based on the artist's own.

Inez drew the people around her, mainly the inmates whom she referred to as the "Bad Girls." The bad girls are often depicted in social situations engaging in the pleasures of drinking, smoking and conversing. Men and children only occasionally appear in her work.

When she was released from the correctional center in 1974, Inez returned to migrant farm work in upstate New York. Inez Nathaniel remarried in 1975 and took her new husband's name Walker. She is known to have completed three or four hundred drawings in total.

Her work is represented by numerous galleries. Her drawings are in the Collection de l'Art Brut in Lausanne, Switzerland, the L'Arcanie, Neuilly-sur-Marne, near Paris as well as in a number of museums in the United States such as the Museum of American Folk Art, the Museum of International Folk Art and the Smithsonian. Since the early 80's Inez has been included in almost every major folk art book and catalog that includes the work of black folk artists.

Bibliography: "Museum of American Folk Art Encyclopedia of Twentieth Century American Folk Art and Artists" by Chuck and Jan Rosenak, 1990; "Contemporary American Folk Art: A Collectors's Guide" by Chuck and Jan Rosenak; the Gold Edition of "Davenport's Art Reference", "Black Folk Art in America, 1930-1980" Jane Livingston and J. Beardsley's; "The Artists Bluebook"; "American Self-Taught: Paintings and Drawings by Outsider Artists" by Frank Maresca and Roger Ricco's; and "American Folk Art of the Twentieth Century" Jay Johnson and William Ketchum's.