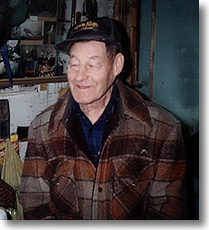 Dick Tutty was from Glace Bay, Nova Scotia. He was a machinist, a fisherman, a coal miner and a jack of all trades. Lorne Reid discovered Dick when he drove by his property which was covered with his carvings of seagulls and wind machines.

Dick was influenced by Sid Howard's work. Most of Tutty's work was painted by his brother Gerald, who also carved for a short period after Dick's death.

Dick Tutty carved lifesize figures such as mounties and coal miners, fish, birds and humorous pieces.His work can be found in the AGNS permanent collection and many collection across North America.

Ref: Art Gallery of Nova Scotia, Nova Scotia Folk Art - Canada's Cultural Heritage (1989); Art Gallery of Nova Scotia, A Life of Its Own – Chris Huntington and the Resurgence of Nova Scotia Folk Art 1975 – 1995 (1997).