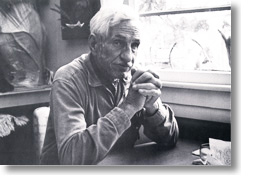 Self-taught painter, sculptor and printmaker Louis Monza was born in Turate, Italy, in 1897. At the age of seven, he was apprenticed to a master furniture carver. Monza was required to make patterns and carve detailed decorative motifs. In 1913 he immigrated to the United States. After arriving in New York City, he held a variety of odd jobs including dishwasher at a restaurant and water boy for the Pennsylvania Railroad. He lived in Mexico from 1915 to 1916.

Athough he was a lifelong pacifist, Monza was inducted into the army in 1917 and served in World War I. Following the war he supported himself as a house painter until 1937, when he was injured in a fall. During his lengthy convalescence he began to create art, a path from which he did not deviate from for the remainder of his life. His earliest paintings are dated in the late 1930s.

In 1946 Monza moved to California where he created prints and sculpture as well as drawings and paintings, all of which carried on a monologue of social and political commentary on topics ranging from technology and the arerospace industry to the effects of environmental pollution. The subject of a number of New York and California exhibitions both before and after his death, Monza also participated in many group exhibitions. In 1973, he was the subject of a book by Catharine Fels entitled "The Graphic Work of Louis Monza", which featured a catalogue of his work through 1971, along with an essay by Fels on the sources of symbolism in his prints. His work is in several permanent collections including the Oakland Museum of California and the Smithsonian Institution's National Museum of American Art.