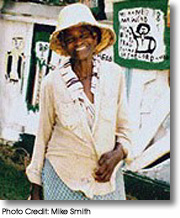 Mary Tillman Smith was born in Brookhaven, Mississippi, and went to work in the fields at an early age. In the early 1930s, Smith moved to Martinville, Mississippi, and sharecropped. Later, she moved to Hazelhurst, where she worked as a domestic, gardener and babysitter.

In the early 1980s she took some panels of tin her son had acquired to use in building a shed, painted them with images of animals and people, and hung them on a fence. Eventually, she created a one acre environment of her paintings, many paying tribute to God. She suffered a stroke in 1985 but continued to paint for the next few years. Her health started to deteriorate, however, and she ceased painting several years before her death in 1995.

Ref: Rosenak, "Contemporary American Folk Art - A Collector's Guide"; Sellen, "Self Taught, Outsider and Folk Art"