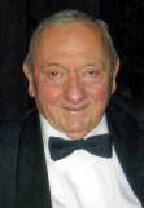 Howard Jasper was born in Toronto in 1933. He obtained his Chartered Accountant designation in 1957 and moved with his wife Pat and children to Kitchener in 1962.

Howard had no formal education or training in the field of art or woodworking. He began carving in 1990 after having spent a number of years working with wood, from refinishing to making "country pieces".

When describing his art, Howard commented "Pat and I have collected folk art since the mid 1970s and my work reflects the character usually found in this type of art. Each piece is distinctive and exhibits humour and/or delight and their uniqueness makes them great conversation pieces and a joy to live with. My biggest problem is parting with them."

Howard's work was honoured with a solo exhibition at the Kitchener-Waterloo Art Gallery in 1998. At that time Robert Reid of the Kitchener Waterloo Record succinctly described Howard's work when he wrote " Jasper's carved assemblages of birds, waterfowl and fish combine the techniques of traditional carving with found objects - informed by an innocent sense of whimsy, wit and fancy and a less-innocent sense of satire."

Ref: Kitchener - Waterloo Art Gallery, Howard Jasper Stick Birds and Friends (October 8 - December 6, 1998).