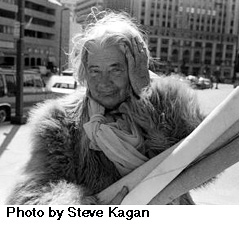 Lee Godie was born Jamot Emily Godie in Chicago. She later married and had three children. Following the death of two of her children and the failure of her marriage, she chose to make her home on the streets of Chicago. Around 1968 she started to offer her canvases to passersby and art patrons in downtown parks and on the steps of the Chicago Art Institute on North Michigan Avenue. She proclaimed herself Lee Godie - French Impressionist, and noted how she was "much better than Cezanne." She claimed her financial success was due to the advice of Renoir to "paint beauty". She would only sell her paintings to people she felt would be suitable purchasers. There was no guarantee she would even talk to you, much less sell you an artwork. There were rumors she didn't like fair-haired people. She painted her face with the same colorful stylings as her art, and she wore unusual self-created fashions such as fabric swatches wrapped around her body like dresses, old fur coat collars, men's shoes, all generally topped off with a felt hat.

Lee's favourite subjects were a blond Prince Charming or Prince of the City, based on a postcard reproduction of a Pablo Picasso portrait of the ballet master Leonid Massin. and "the girl in a mirror". She would sometimes include dramatic photographically altered self-protraits that she would create in the photo booth machine at the Trailway's Bus Station. Lee would rub paint or other substances on her face to darken it before she stepped into the photo booth. She would wear various costumes to change her identity. After the image was developed, she would often enhance the features of her face with red paint or ball point pen. She worked in a variety of media, including tempera, ballpoint pen, crayon, watercolor, pencil, and combinations of these. She worked on canvas, poster board and discarded window blinds. Occasionally, she included pictures from magazines and newspapers in her work. She carted her work around and stored it, along with her art supplies and material possessions, in rented lockers at bus terminals, department stores, and parking garages.

Towards the end of her days, Lee was reunited with a long-lost daughter and ultimately moved with her to the suburbs. Godie developed Alzheimer's and passed away in 1994.

On August 28, 1991, Chicago's Mayor Daley proclaimed September 6 to October 8 "Lee Godie Exhibition Month," and urged citizens to "pay homage to this gifted artist." Between March 13, 1993 and January 16, 2004, an exhibition entitled "Artist Lee Godie: A Twenty-Year Retrospective", curated by Michael Bonesteel, was presented at the Chicago Cultural Center. From September 12, 2008 to January 3, 2009, an exhibition of over 100 pieces of Lee Godie's work entitled "Finding Beauty: The Art of Lee Godie" was on exhibit at Intuit: The Center for Intuitive and Outsider Art. Her work can be found in the permanent collections of the Museum of American Folk Art in New York City, the Milwaukee Art Museum, the Arkansas Arts Center and the Smithsonian American Art Museum, and the Museum of Contemporary Art in Chicago.

Bibliography: "Contemporary American Folk Art: A Collector's Guide" by Chuck and Jan Rosenak; "Lee Godie: Michael Bonesteel Reflects on the Life and Work of the Queen Mother of Chicago Outsider Artists." Raw Vision, vol. 27 (1999); "Transformations of the Self." The Outsider, vol. 7, no. 1 (2002), Jessica Moss; "Art in Chicago 1945–1995" Chicago: Museum of Contemporary Art, 1995; "Art Outsider et Folk Art des Collections de Chicago" Paris: Halle Saint Pierre, 1998; "Artist Lee Godie: A 20-Year Retrospective" Chicago: Chicago Department of Cultural Affairs, 1993; "Common Ground/Uncommon Vision: The Michael and Julie Hall Collection of American Folk Art" Milwaukee, WI: Milwaukee Art Museum, 1993; "Lee Godie: French Impressionism from a Bag" Chicago: Carl Hammer Gallery, 2004; Maresca, Frank, and Roger Ricco. "American Self-Taught: Paintings and Drawings by Outsider Artists" New York: Alfred A. Knopf, 1993; "Off Center: Outsider Art in the Midwest" St. Paul: Minnesota Museum of Art, 1996; "Outsider Art: An Exploration of Chicago Collections" Chicago: Chicago Department of Cultural Affairs/Intuit, 1997; "Personal Intensity: Artists in Spite of the Mainstream" Milwaukee: Art Museum, University of Wisconsin, Milwaukee, 1991; "Personal Voice: Outsider Art and Signature Style" Chicago: American Center for Design, 1991; Russell, Charles, ed. "Self-Taught Art: The Culture and Aesthetics of American Vernacular Art" Jackson: University Press of Mississippi, 2001; Zolberg, Vera L. and Joni Maya Cherbo, eds. "Outsider Art: Contesting Boundaries in Contemporary Culture" New York: Cambridge University Press, 1997.