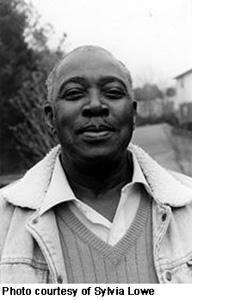 Sulton Rogers was born in Mississippi. He learned carpentry skills at an early age from his father. Eventually he moved to Syracuse, New York, where he got a job in a chemical plant. He took up carving to stay awake during his night shift at the plant. Fellow employees were taking his finished carvings so he started carving coffins. He retired in 1984 and returned to Mississippi.

Rogers occassionally carved animals but his favorite subjects were people with oversized features, numerous eyes, long tongues and noses. He referred to his carvings as "haints" and would sometimes make "haint houses" with many related carvings. Sulton Rogers said he carved human figures based on people he met in his travels. His early carvings, he said, were inspired by dreams of the animals he saw in his native Mississippi.

Sulton's carvings are included in the permanent collections at the American Visionary Art Museum in Baltimore, the Mississippi Museum of Art in Jackson, Mississippi, the African American Art Museum in Dallas, Texas, and the University Art Museum in Lafayette, Louisiana. His work has also been included in several museum shows, including "Black Art -- Ancestral Legacy: The African Impulse in African-American Art" at the Dallas Museum of Art, "Passionate Visions of the American South" at the New Orleans Museum of Art, "Amazing Grace: Self-Taught Artists from the Mullis Collection" at the Georgia Museum of Art, and the American Visionary Art Museum.
Ref: Rosenak, "Contemporary American Folk Art - A Collector's Guide"; Sellen, "Self Taught, Outsider and Folk Art"