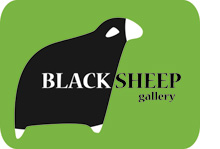 Season's Greetings to everyone. We are offering a few great artworks for this festive season, including two flying angels. The first is by Imelda George, a Cape Breton artist whose carvings inspired the book The House of the Wooden Santas. Imelda has not done any carving in several years after acquiring an allergy to wood dust, and her work seldom comes to market. The other angel, by Ian Fancy, is holding a small white dove. Also featured are early carvings of a K-Mart Man and Cape Breton Lady by renowned folk art carver Murray Gallant, a lobster by Ransford Naugler and a gorgeous rooster from James Forbes. James was active in the late 90s and early 2000s, and participated in the 1998, 1999 and 2000 Folk Art Festivals, but we have not seen any new work by him in several years. This rooster has really nice age to it.

We have started posting pictures of our folk art on Instagram. We are fascinated by this incredible community of images. If you would like to take a look and consider following us, click on this icon.


We wish all of our readers a peaceful and loving holiday and all good things for 2019. See you next year!.




Please visit us on our facebook page

, Instagram
, twitter
and
. You can also watch videos of some of the artists whose work we carry on YouTube
. Enjoy!