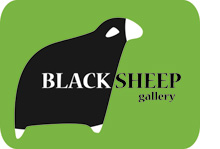 Ewald Rentz (1908 – 1995) operated a small barber shop beside his home on the main street of Beardmore, Ontario. where he cut hair and he created his carvings. Ewald enjoyed getting out in the woods to prospect for minerals and he often found unusual roots, branches and fungus. In his spare time he would coax the hidden forms out of the wood and fungus and turn them into sculptures. He used plastic wood and paint to finish the pieces. Rentz created a variety of whimsical and often humorous people and animals including bellhops, matadors, and mermaids. This large carving of an officer riding a horse measures almost five feet high and was acquired from the Martin Osler collection. An impressive work by one of Canada's premier folk artists.

Also presented this month is a carving of a swan by Nova Scotia carver Collins Eisenhauer (1898 – 1979). His swan carvings, which many consider are his signature works, are a favorite of collectors. This one is a beauty with its long elegant neck firmly planted on a finely carved body. We had fun shooting it in front of a couple of different backgrounds.

It is hard to believe that Nova Scotia carver Percy Bezanson (1905 – 1990) could create his delicate horses and oxen from old cedar and pine power poles using only a jack knife. He lived alone and enjoyed a very simple life in a one room house. He probably spent many winter days by the fire carving the delightful black horse we have added to the gallery.

The United Kingdom's Ian Pyper describes himself as a "self-taught life long drawer". His drawings are spontaneous creations, automatically drawn although carefully expressed as we can see in his ink drawing Water Bird With A Fish. His work has been featured in Raw Vision #25 ('The Spiritual Diaries of Ian Pyper' by Kate Howlett-Jones) and Resurgence #210 ('Ian Pyper: A Shamanic Spirit' – also by Kate Howlett-Jones). Kate Howlett-Jones described Ian as "... full of conflicts; a frank, unaffected man who has little truck with the pretensions of the art world, he is at the same time intensely passionate about his drawing. He is a spiritual pragmatist; a modernist with sentimental tendencies; a down to earth eccentric."

And we have several other birds to share this month. Ted Evans' (1939 – 2016) zany birds would be fun to add to any décor, and Barry Colpitts has been kind enough to part with a couple of his little birds. Most days he is busy adding to his whirligig farm, On a recent visit we were lucky enough to see some of his new creations at the farm. We really hope he considers parting with some of them at some point in the future. (I have my eye on a couple of them already.)

We continue to get requests for Maud Lewis paintings, and have been looking for examples of her work to add to the gallery. If you are interested in consigning work by Maud please let us know.




Please visit us on our facebook page

, Instagram
, twitter
and
. You can also watch videos of some of the artists whose work we carry on YouTube
. Enjoy!