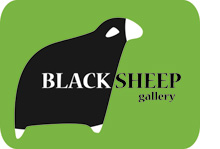 We have added some interesting work to our web site over the recent past, four works from folk/outsider artists from the U.S., and two from well know Canadian folk artists.

Ted Gordon called himself a "doodler" and as his doodles evolved they became humanoid and human faces made of patterns and spirals. Some of them were in black pen or ink and some are done in brightly coloured pencil. Gordon claims each drawing is a self-portrait. Some consider his early drawings, done on the back of posters advertising the San Francisco opera, as his benchmark work. We are pleased to have added two of these, from 1968, to our site.

At the age of seven, Louis Monza (1897 – 1984) was apprenticed to a master furniture carver. Monza was required to make patterns and carve detailed decorative motifs. This early training stayed with Monza all of his life. He loved to travel and drawings he would make on trips were incorporated in a pattern book of elements and motifs. In his studio after much planning he would use these drawings to recreate and enhance the physical elements of a landscape and sometimes incorporate symbols of technology, or environmental pollution. In Louis Monza's "Yucca Valley Landscape" he has captured the stunning scenery characterized by a fascinating desert landscape.

We are also featuring two paintings by Willie White (1908 – 2000). White's paintings are of an earth "as it were seven million years ago", filled with winged dinosaurs, strange animals, watermelons and flowers on broad planes of color and repetitive patterns.

The pig by Aime Demeules (1917 – 1997) has a wonderful profile and a nice patina. At an early age Aime worked with his father George who was also a well known Quebec carver. They often used leather for ears, braided rope for tail and glass eyes.

The scallop shell by Leo Naugler is framed in a shadow box. Leo always captured the beauty of a sunny summer day in Nova Scotia, with his pink horizon and soaring seagulls on a navy blue sky.

Stay safe, everyone.




Please visit us on our facebook page

, Instagram
, twitter
and
. You can also watch videos of some of the artists whose work we carry on YouTube
. Enjoy!