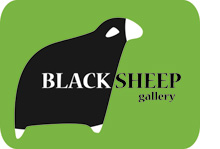 We have a few interesting artworks for our October update. Forgive me for being a bit long-winded about Purvis Young, but his is powerful work.

The first two paintings are by American artists and depict two perspectives that could not be more different, a lesson in itself perhaps. The first is by Maine painter John "Jay" Adams (1937 – 2013). Born in New Jersey, Adams, who was self taught, made a living working as a chef in various country inns in New Jersey and Maine. He enjoyed carving waterfowl and painting humorous depictions of Maine life set down in a detailed, naïve style that was charmingly unique. He always signed his works "Jay ..". This wonderful depiction of a clipper ship off the coast of Maine is done on a one inch thick found board measuring 10" x 32".

The second painting, "Man in Hat" is by Purvis Young (1943 – 1234). Born in Liberty City, Miami, he never attended high school. He spent three years in Florida's Raiford State Penitentiary for breaking and entering when he was a teenager. He started to draw while he was in jail. According to Young, an angel had spoken to him in prison and told him to create. He moved to Overtown after his release from prison. In the 1970s Purvis was influenced by photographs of murals he had seen such as, the Wall of Respect mural in Chicago and the Freedom Wall in Detroit, as well as from the civil rights and Vietnam protests of the sixties, and the Black Arts Movement. He nailed hundreds of paintings to the sides of the boarded up buildings that formed the Good Bread Alley, which was named after the Jamaican bakeries that once occupied the street.

Many of the paintings are on materials and other debris he found throughout Overtown. From chunks of plywood and other construction materials, Young would fashion frames for his paintings. Recurring themes in his work were horses, angels, and urban landscapes. Through his works he expressed social and racial issues and served as an outspoken activist about politics and bureaucracy Young said in an interview reprinted in his New York Times obituary "What I say is the world is getting worser; guys pushing buggies, street people not having no jobs here in Miami, drugs kill the young, and church people riding around in luxury cars." In 2006 a feature documentary entitled Purvis of Overtown was produced about his life and work. His work is found in the collections of the American Folk Art Museum, the Corcoran Gallery of Art, the High Museum of Art, the National Museum of African American History and Culture and the Philadelphia Museum of Art, among others.

And now back to our artists from Nova Scotia. We have a wonderful carving by Collins Eisenhauer (1898 – 1979), of a tree branch with three blue jays. Not a subject that we usually expect to see of Collie's work, but a strong piece nonetheless. Collins' work is in numerous public collections including the Museum of History, the Art Gallery of Nova Scotia and the Beaverbrook Gallery in Fredericton. Discovered by Chris Huntington in the early 1970s, Collins has been acknowledged as a great master of the genre, and deservedly so.

Our next work from Nova Scotia is by Leo Naugler, who has not been very active in recent years. This wonderful "Fish" is from 1996 and is an excellent example of Leo's work when he was at his peak. Leo's work anchored an exhibition of contemporary Canadian folk art that travelled to England in 1989, and he has been featured in numerous television shows and magazine articles. His work can be found in the permanent collections of several public galleries in Canada.

We are pleased to offer this little tree from Harold Weaver, who lived in a small house just outside of Halifax. For several years he had on occasion produced small carvings which he used to decorate the railing around the veranda of his home, and to decorate the home itself. He was discovered by collector Chris Wilcox as the result of a chance encounter, and although he agreed to sell a few pieces to Chris after several visits, most of his work did not become available until after his death in the late 1990s. It is estimated that he carved fewer than fifty pieces in total. His work, which is very distinctive, is not widely known outside of a small number of dedicated collectors in Nova Scotia.

And from our friend and local artist, Barry Colpitts, a delightful red bird that will fit nicely on a bookshelf and bring lots of joy to its owners. Barry's brightly decorated house has become a popular attraction for local people and tourists alike. One of his paintings was purchased by the Nova Scotia Art Bank in 2007, and his work was featured on the 2009 Nova Scotia Folk Art Festival poster.

Maud Lewis: Life & Work by Ray Cronin is the first and only online art book to celebrate one of Canada's most beloved painters who has become a national icon. You can peruse it by clicking here. It is available free of charge, in both French and English, and makes Lewis's art accessible to audiences around the world. The highly praised 2020 Maud Lewis exhibition from the McMichael Canadian Collection has now made its way to the Art Gallery of Hamilton, from November 11, 2021 to January 9, 2022. For those who subscribe to Canadian Antiques and Vintage magazine (and if you don't you should) you can read an article in the Nov/Dec issue of Sophie and Herbert Bond's visit to Hamilton to review the exhibition.

We have had a wonderful fall here in Nova Scotia, and the leaves have just begun to turn colour in our area. We hope you all had a happy thanksgiving and will stay safe as we transition into the colder weather. The spring of 2022 holds much hope.




Please visit us on our facebook page

, Instagram
, twitter
and
. You can also watch videos of some of the artists whose work we carry on YouTube
. Enjoy!