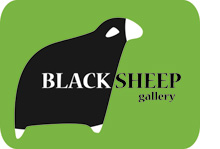 As we are not opening the gallery this summer, we are pleased to bring you a selection of new available works.

Collins Eisenhauer (1898 – 1979) started to carve in 1964, but he was not discovered until the early 1970s when an antique dealer was picking in the area and noticed a few carved swans and geese on his lawn. For a short time after his discovery, Collins signed his work "Collins Eisener", and his mailbox, which was held by a carved figure now in the permanent collection of the Art Gallery of Nova Scotia, also identified him as "Eisner". When he was filmed for a documentary by CBC television in 1973, the program was entitled "Woodcarver, Collins Eisener". We have heard a couple of stories explaining the different last names. One is that he could not fit the word "Eisenhauer" on his mailbox so he shortened it to Eisener. Another is that he did not use his real name on his carvings at the suggestion of the dealer who first found him, so that he would not be bothered by people looking for his work, (and perhaps limit the access of other dealers looking for his work). The delightful carving of two small oxen we have featured this month was done during this early period when his work was still being signed "Collins Eisener". After coming to the attention of Chris Huntington, the "father" of Nova Scotia folk art, he began signing his work "Collins Eisenhauer". When referring to the original group of Nova Scotia folk artists he discovered in the early 1970s, Huntington has written that "Collins Eisenhauer was singled out as the great master among other brilliant contemporaries." That group of artists formed the basis for the first ever exhibition of contemporary folk art curated by the Art Gallery of Nova Scotia, which travelled across Canada in 1976.

Clarence "Bubby" Mooers' (1925 – 2002), of Milton, NS, also had work featured in the 1976 AGNS exhibition which travelled across Canada. We have fond memories of sitting with Bubby in his kitchen in Milton, during our many visits with him; he sitting next to his wood stove and us sitting at his kitchen table across from it. I can recall him reminiscing about the genesis of his small carvings of fishermen both in yellow and black slickers. He called them "Saltys" and pointed to a salt shaker on the shelf above his sink, and said, "That's him." While both were fishermen in slickers, the appearance of the two had very little, if anything, in common. It is always a special moment to sit with an artist and discuss the inspiration behind some of his work. You can hear Bubby yourself by clicking here.

Someone once said "we create works of art as a kind of functional MRI scan to reveal our conscious world and share it with others". When we look at Maud Lewis' work there is no question that she was happy when she painted. While faced with so much adversity she painted a world of doe eyed oxen, children skiing and sledding, and like the painting we have featured this month, one of a wintery sleigh ride with a family taking home the tree they had cut for Christmas. She filled her cozy one room house with these images. This was Maud's world.

Everett Lewis' work as we see in the painting we have added to the site, is filled with images of outdoor labour, such as working oxen and chopping wood.

Ontario folk artist Gilbert Desrochers (1926 -1990) moved to a small trailer on his brother's farm following a religious experience while in prison. He attended church regularly and claimed God came to him in dreams and told him what to carve. He would often harden the high gloss paint, used to colour and give the necessary details to his sculptures, by heating his workshop, located in the same trailer that he slept, to 120 degrees F. All of his work was created for installation in and around his living space, or on his tractor. The angel we are featuring this month was part of this outdoor sculpture garden.

Jacob Roth (1896 – 1995), also from Ontario, was raised a Mennonite and his early years reflected a lifestyle typical of his rural contemporaries. By the age of fourteen he was farming full-time with his father and at the age of twenty-one he went to work on his own, hiring himself out to other farmers in the area and eventually had a farm of his own. He started constructing his artwork at the age of 82. His creative talent was influenced by his personal experience rather than formal artistic training. This construction of two horses pulling a green wagon offered at the gallery depicts part of daily life on the farm.

And an interesting little bird by Ted Evans (1939 – 2016). Ted was a retired record company executive. He played with the concept of folk art and his work was often tongue in cheek. Ted would include found objects in his work and when he could not find the squeeze top of a soap dispenser for this little duck's crown in this piece, he made one out of wood.

Other exhibitions and events happening this year:

Qaumajuq, the Inuit art Centre, is a new museum within a museum at the Winnipeg Art Gallery. Opened virtually earlier this year, Qaumajuq features the largest public collection of contemporary Inuit art in the world., Over 20,000 sculptures, prints, drawings and textile art are housed in this stunning architectural presence in Manitoba's capital city. The 40,000-square-foot facility serves not only as a place to showcase Inuit culture, but also as a gathering place to educate its visitors.

Early Days: Indigenous Art
McMichael Canadian Art Collection, Kleinburg, Ontario
November 28, 2020 – August 15, 2021

More than 1,500 works ranging from eighteenth-century ceremonial regalia, through to items made for trade with settlers, to works by the vanguard of artists coming of age in the '60s, '70s and '80s — among them Robert Houle, Carl Beam, Norval Morrisseau, Alex Janvier, Greg Staats, Faye HeavyShield and Shelly Niro — and onward to leading contemporary artists like Kent Monkman, Meryl McMaster and Rebecca Belmore.

#mask: Creative Responses to the Global Pandemic
Museum of International Folk Art, Santa Fe, New Mexico
May 30, 2021 - January 15, 2023

Face masks have become daily attire for people around the world. Face masks have become a creative outlet for many. They are representations of self-expression, political stance, fashion, and a symbol of humanity's hope and care for one another. This exhibition is an ode to the face mask, and to the artists and every day citizens making their way through the COVID-19 crisis.

American Weathervanes: The Art of the Winds
American Folk Art Museum, New York City, New York
June 23, 2021 to January 2,2022

A comprehensive exhibition highlighting the beauty, virtuosity and cultural significance of weathervanes made between the late 18th and early 20th centuries.

Stay safe, everyone.




Please visit us on our facebook page

, Instagram
, twitter
and
. You can also watch videos of some of the artists whose work we carry on YouTube
. Enjoy!